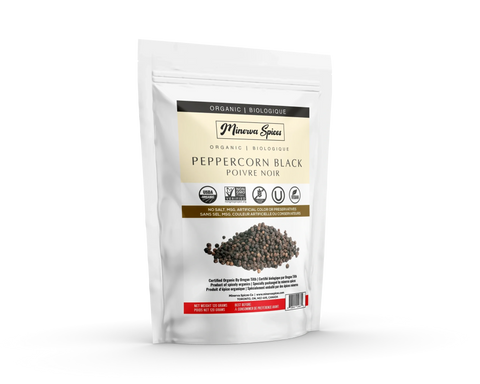 Organic Black Peppercorn 4 Oz (120 grams)
Our Organic Peppercorn Black Ground are derived from the fruits (peppercorns) of the Piper Nigrum plant, better known as the "pepper plant." Peppercorns grow in clusters on a climbing vine-similar to grapes. Of the three types of peppercorns, black, white, and green, the black pepper has the strongest flavor and aroma; slightly hot with a hint of peppered sweetness.

Independent 3rd Party Certifications: Organic, Gluten Free, Non-GMO, Kosher, Vegan

Using at home
Crushed black peppercorn is one spice that needs no introduction or explanation. This spice is good with everything!
Easily used in typical ways and in deliciously creative dishes!
Add the spicy-hot notes of the crushed peppercorn's pungently irresistible flavor into your next dessert! This works best in items that are relatively flavor neutral, like a cheese cake, or in items that already boast the spicy-sweetness of the holiday spices: nutmeg, cinnamon, ginger, or cloves.
Health
Black pepper stimulates the taste buds which is believed to help the stomach increase hydrochloric acid secretion helping with digestion, preventing constipation, and gas irritation along the way.
Black pepper also demonstrates impressive antioxidant and antibacterial effects.
Benefits

Directly sourced, all-natural ground peppercorn.
The secret to the highest quality culinary grade peppercorns, is ensuring that they are hand picked at the exact right time, when they not quite ripe.
This is the peak of their robust flavor and by delicately dehydrating them at this time the exotic tastes and aromas are perfectly preserved.
History

Also known as "black gold," black peppercorn has been a highly prized, traded good for centuries.
The use of peppercorns dates back to ancient Egypt with evidence suggesting that peppercorns were used during mummification rituals.
More recent history relates to the spices trade initiated by Dutch traders who found pepper in Indonesia spreading it to the rest of the world.
Once integrated into cuisines, the flavorful peppercorns quickly took hold and today are one of the most widely traded spices worldwide. 
Ingredients: Organic Pepper Black Ground
check out this fantastic recipe to use organic black peppercorn:

 Creamy parmesan herb chicken mushroom
https://minervaspices.com/health-%26-recipe-blog/f/todays-recipe-creamy-parmesan-herb-chicken-mushroom
Checking local availability