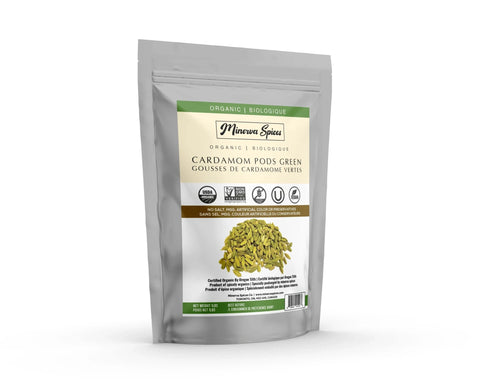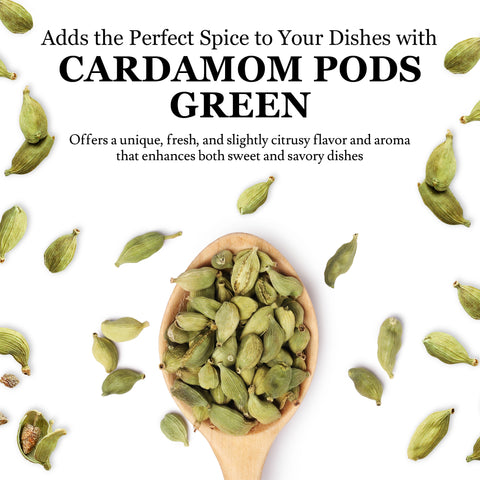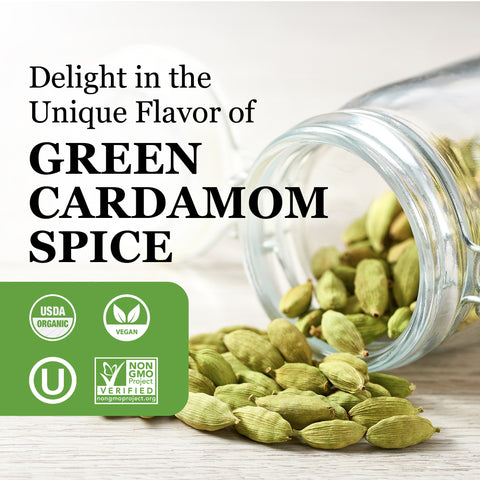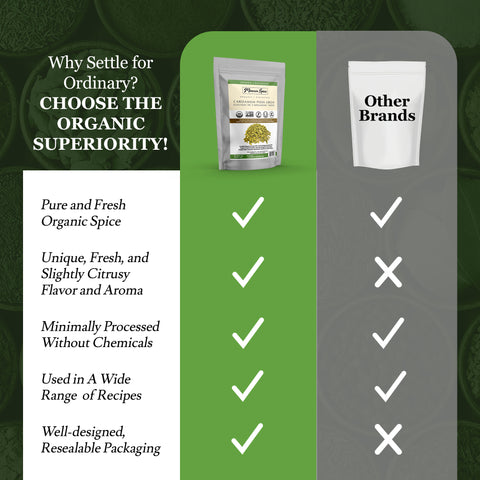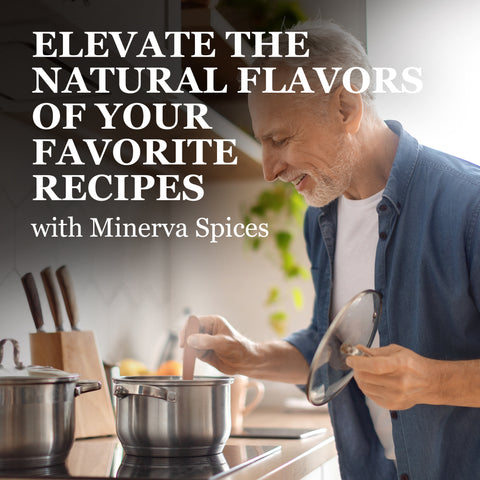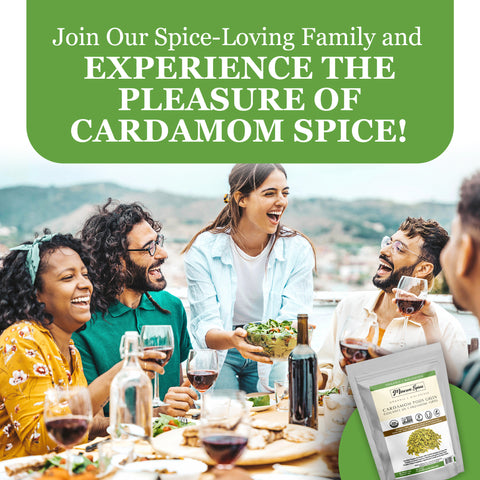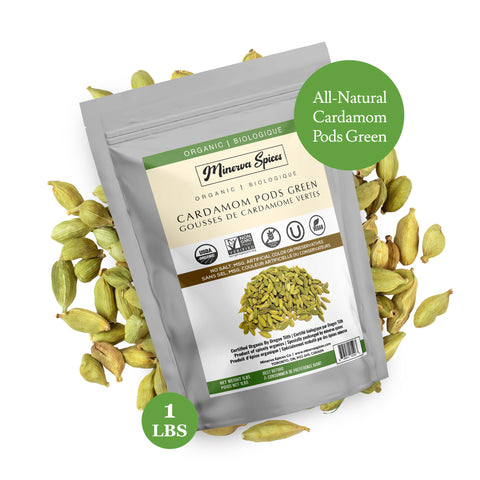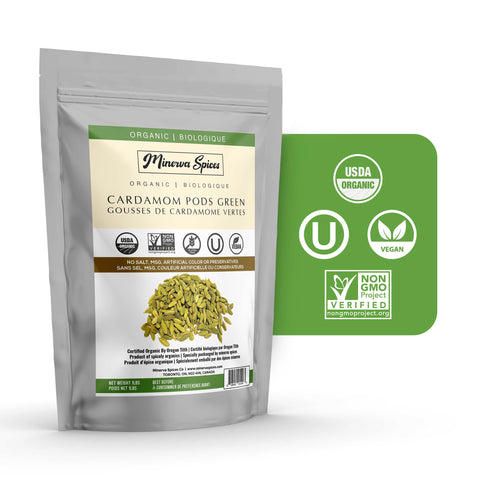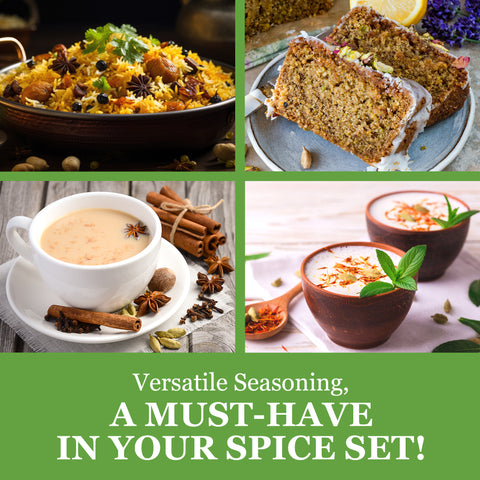 Organic Cardamom Pods Green 1Lb (453 gram)
Our Organic Cardamom Pods Green have a unique, fresh, slightly citrus flavor and aroma and are used in sweet and savory dishes. Our gluten-free green cardamom pods preserve the potent flavors and fragrance of the cardamom for extended periods of time.
Independent 3rd Party Certifications: Organic, Gluten Free, Non-GMO, Kosher, Vegan
CERTIFIED ORGANIC AND ALL NATURAL, VEGAN AND GLUTEN-FREE CERTIFIED
OUR SPICES COME IN A PREMIUM RECLOSABLE STAND UP POUCH, MAKING THEM IDEAL FOR STORAGE IN THE KITCHEN
STEAM STERILIZED ,NO CHEMICAL NOR RADITION USED FOR STERILIZATION
SATISFACTION GURANTEED : Customer satisfaction is very important to us, so if you are not happy with our product, we offer a full refund.

Using at Home

Simply remove the inner seed and grind it, using a spice grinder, into powder.
One popular usage is Chai tea which is made with cinnamon and cardamom and is a popular beverage in India.
It also makes a fine addition to coffee, giving it a unique flavor.
It is used throughout Southeast Asia in curries and masalas.
In Finland and Sweden cardamom is used to add flavor to sweet breads.
Health
Cardamom is widely used in traditional medicines.
It can be used to treat sores in the mouth, the teeth, and gums as well as soreness of the throat.
It has been used in traditional Chinese medicine to treat stomach issues, digestive issues, dysentery, and constipation.
It is believed to be useful for breaking up kidney and gall bladder stones as well.
Benefits
Freshness is key for this unique spice which is why we direct source all of our products to ensure the highest level of quality and flavor.
The pods flavor is stronger, whereas ground pods quickly start to lose their flavor and aroma.
Green cardamom pods have been compared to ginger, but without the sharpness.
It can be used to freshen the breath by chewing the seeds; it has even been used in chewing gum.
History
The cardamom plant is native to India, Bangladesh, Bhutan, Indonesia, Pakistan, and Nepal; however, Guatemala is the largest producer of commercial cardamom today, followed by India.
Demand for the spice has been steadily increasing since the 1800's, with greater demand coming from China.
A German coffee planter took a liking to the pods unique culinary attributes  and introduced cardamom to Central America just before WWI. 
This exquisite spice is one of the most expensive spices sold today, with only vanilla and saffron being more expensive.
Ingredients: Organic Cardamom Pods Green
Checking local availability