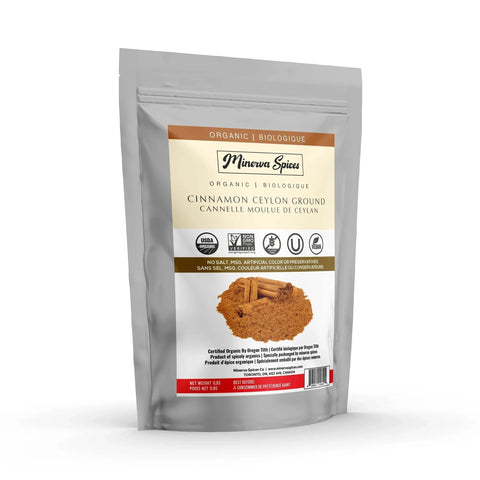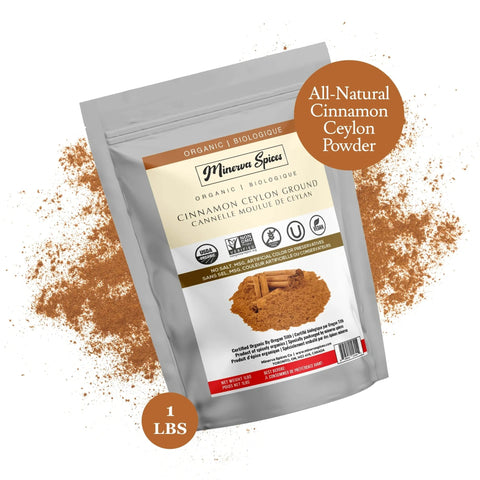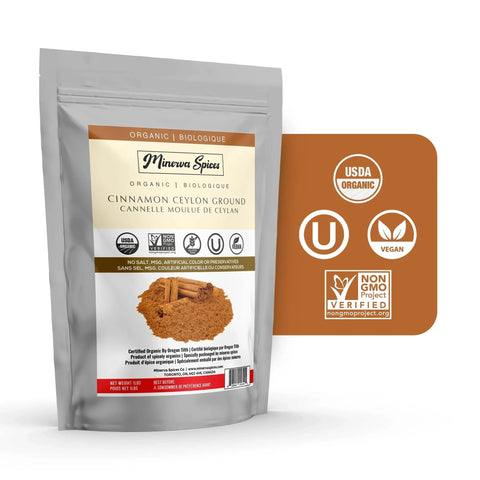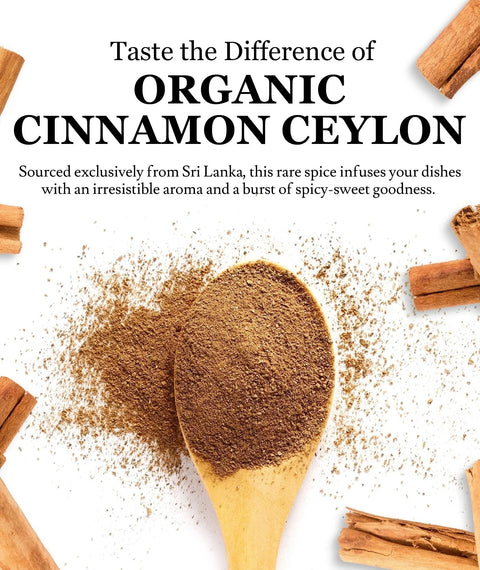 Organic Cinnamon Ceylon Ground 1Lb (453 grams)
Commonly referred to as "true" cinnamon,  Organic Ceylon Cinnamon Ground is exclusively cultivated in Sri Lanka and is rarely found in stores. Its delicately sweet notes lack the often-harsh spiciness of the more popular, darkish brown cassia variety.
The tanner Cinnamon Ceylon is loaded with spicy-sweet flavors and a delicious aroma that enhances the flavor of sweet and savory dishes.

Independent 3rd Party Certifications: Organic, Gluten Free, Non-GMO, Kosher, Vegan 

CERTIFIED ORGANIC AND ALL NATURAL, VEGAN AND GLUTEN-FREE CERTIFIED
OUR SPICES COME IN A PREMIUM RECLOSABLE STAND UP POUCH, MAKING THEM IDEAL FOR STORAGE IN THE KITCHEN
STEAM STERILIZED ,NO CHEMICAL NOR RADITION USED FOR STERILIZATION
SATISFACTION GURANTEED : Customer satisfaction is very important to us, so if you are not happy with our product, we offer a full refund.
 Using at Home

Organic Cinnamon culinary superpowers are not only for the holidays.
It incorporates seamlessly into both sweet and savory dishes; melding and enhancing the natural flavor of the foods while contributing its own uniquely delicious clove-like spiciness and pungent aroma.
The complex flavor profile tends to best compliment desserts but is really quite versatile.
Stir a scoop into your next batch of pancakes, use it to caramelize apples for your next bowl of oatmeal, or mix some with ground coffee to bring your morning cup to a whole new level.
Health

Recently the spice's medicinal properties have gained attention with its consumption being found to help lower blood sugar and cholesterol.
It has also become a popular ingredient in home remedies for a range of topical ailments, from curing acne to fighting infection; likely due to it's powerful antimicrobial properties.
While toxicity from cinnamon is rarely an issue, many people who experience adverse reactions to the consumption of the more common cassia variety have found that they do not have issues with consuming Ceylon cinnamon.
For more health benefits of organic cinnamon ceylon please see:  https://minervaspices.com/health-%26-recipe-blog/f/surprising-health-benefits-of-organic-cinnamon
Benefits

It contains significantly less coumarin, a natural occurring substance that can pose toxicity issues if consumed in high amounts. 

Cultures all over the world celebrate the novel flavor it lends to foods and utilizes it for a range of medicinal purposes.
Substituting Ceylon for Cassia in your holiday baking is a simple way to bring sweet flavors to the next level.
History

This famously flavorful spice has long been celebrated for both its culinary and medicinal properties. It is derived from the cinnamomum verum species of trees.
The unique processing and global transportation of this tantalizing bark have been practiced for thousands of years.
Unlike many spices made from the fruits or vegetation of plants, cinnamon differs in that it is made up of the inner bark of the tree.
The process for obtaining this spice is quite unique; requiring the removal of the trees' outer bark, followed by scraping the inner bark by hand into long narrow strips, and finally allowing it to dry.
Today cinnamon continues to be globally loved, playing roles in a variety of cuisines and ranging in application from sweet to savory dishes. 
Checking local availability