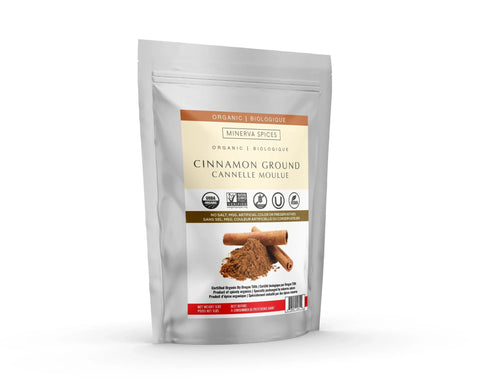 Organic Cinnamon Ground 1 Lb (453 grams)
Cassia ground cinnamon is the most often used cinnamon spice. Our premium, all-natural cassia Organic Cinnamon Ground packs intense flavors and aromas that make it ideal for adding subtle spicy notes and more intense fiery flavors to all types of savory dishes.

Independent 3rd Party Certifications: Organic, Gluten Free, Non-GMO, Kosher, Vegan

Using at Home
Use can range from meat marinades to stews where it seamlessly melds and enhances the natural flavor of the foods while contributing its own uniquely delicious notes.
Its culinary flexibility can beautifully transform both sweet and savory dishes.
Try adding a dash to your next pot of chili, use it to add a zing to your next meat marinade, stir some in while caramelizing onions, or even give a shake to your next batch of quinoa.
The versatility of the spice allows it to also work its flavor magic on holiday-baked goods.
Health
This spice has been used for centuries by cultures all over the world to help aid a range of medical conditions.
It has also become a popular ingredient in home remedies for a range of topical ailments, from curing acne to fighting infection; likely due to cinnamon's powerful antimicrobial properties.

Benefits

Our cinnamon is sourced direct and minimally processed in our gluten-free facility to ensure that it achieves its maximum potential for both fragrance and flavor.
Cultures all over the world celebrate the novel flavor it lends to foods and utilize it for a range of medicinal purposes.
History
This famously flavorful spice is the most popular form of cinnamon in use today and it is derived from the cinnamonum species of trees that have long been celebrated for culinary and medicinal properties.
This beloved spice has even played a role as a spiritual relic, such as the Hebrew Bible's account of Moses being commanded to mix cinnamon into his holy anointing oil.
The unique processing and global transportation of this tantalizing bark has been practiced for thousands of years.
Unlike many spices made from the fruits or vegetation of plants, cinnamon differs in that it is made up of the inner bark of the tree.
The process for obtaining this product is quite unique, requiring the removal of the trees outer bark, followed by scraping the inner bark, by hand, into long narrow strips, and finally allowing it to dry.
Cassia cinnamon has dark reddish color differing it from the tan Ceylon variety of cinnamon.
Ingredients: Organic Cinnamon Ground
Checking local availability