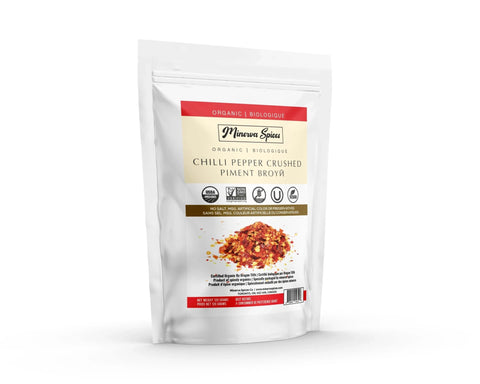 Organic Chili Pepper Crushed 4 Oz (120 grams)
Our gluten-free Organic Chili Pepper Crushed is packed full of flavor and heat. Dried and pulverized, easy to use anytime you need to add a layer of spicy-deliciousness.

Independent 3rd Party Certifications: Organic, Gluten Free, Non-GMO, Kosher, Vegan

Using at Home
Our crushed chili peppers are probably most famous for their role in Mexican and Mexican inspired dishes, such as salsas, chili con carne, mole poblano, tacos, and burritos.
The chili peppers can be used in many dishes from around the world including puttanesca, curries, kung pao chicken, and many more.
Benefits

These all-natural chili peppers are packed full of capsaicin, the compound that delivers the heat, the perfect way to easily turn up the flavor-fire in your next dish.
Crushed chili peppers are simple to use. They can be added to many recipes, sprinkled on top of food for extra heat (a staple in Italian restaurants), or used in pickling and soups.
History
Archeological evidence shows that chili peppers have been domesticated for more than 6000 years and used since 7500 BC.
Christopher Columbus first encountered them in the Caribbean, calling them peppers because of their spicy flavor.
After bringing them back to Europe, they were cultivated in Spanish and Portuguese monasteries and often used as a substitute for black peppercorns, which had risen dramatically in price.
Ingredients: Organic Chili Crushed
check out this fantastic recipe to use organic chili pepper crushed:

Creamy parmesan herb chicken mushroom
https://minervaspices.com/health-%26-recipe-blog/f/todays-recipe-creamy-parmesan-herb-chicken-mushroom
Checking local availability