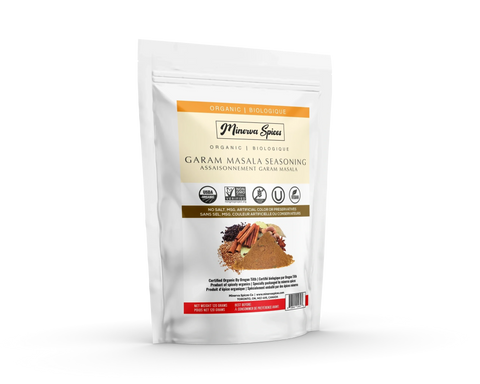 Organic Garam Masala Seasoning 4 Oz (120 grams)
Our Organic Garam Masala is a traditional spice seasoning blend most often associated with Northern India and Southern Asia cuisine. Delicately combined in our gluten-free facility, our all-natural garam masala has beautifully synergistic, flavor boosting properties with intense aromatic qualities and heavily-packed punch of deliciousness. 

Independent 3rd Party Certifications: Organic, Gluten Free, Non-GMO, Kosher, Vegan

Using Garam Masala at Home
Over the years this jack-of-all-trades spice mix has found its way into nearly all types of vegetable and meat-based dishes regardless of preparation style.
The most traditional use of the mix is in soups, sauces, and stews often times forming a sort of curry.
Organic Garam Masala is able to effortlessly meld and boost other flavors or stand on its own to make a previously bland dish sing.
Try smashing it in with a bowl of guacamole to create a mouth-watering, Indi-Mex fusion.
Use a dash of Garam Masala when cooking rice, or any grains, to add a little life to those boring side dishes.
Try warming some in oil before caramelizing your next batch of onions.
However you end up using it, your tastes buds are bound to be in for a treat; so don't be afraid to get creative!
Health

This unique combination of spices has long been prized in traditional medicine for their ability to warm the body, which is often associated with aiding digestion and helping alleviate all sorts of health ailments.
The ingredients used individually also pack a load of essential vitamins and nutrients, as well as antioxidant properties. The fennel and coriander seeds, specifically, are packed with magnesium, iron, and calcium.
Benefits

Our seasoning is the result of the blend's spice evolution and fusion through different cultures and cuisines over many years.
The unique flavor profile: cinnamon and cloves add notes of sweetness, peppercorns bring a bit of heat, coriander and cumin contribute a bit of spiciness, and fennel does whatever that oddly-irresistible licorice-tasting seed does.
The seasoning blend is really is open to all sorts of variations.
Processed in our all-natural, gluten-free facility.
History of Garam Masala

The exact components of the mix change from region to region, so there is no universally set mixture of spices that are required.
Believed to have first originated in Northern India its name translates to Hindi as a hot mix of spices, however, it's not hot in the jalapeño sense of the word.
The name actually refers to the traditional Hindu system of medicine, known as Ayurveda, in which the spice was renowned for its ability to heat the body and aid in digestion; meaning the spice mix creates intestinal warmth.
While the spice is still a quintessential part of Indian cuisine, it has over the years, spread around most of Asia and gained popularity in fusion cuisines all around the world.
Ingredients: organic cinnamon, organic coriander, organic fennel, organic cumin, organic black pepper, organic cardamom, and organic cloves

Checking local availability