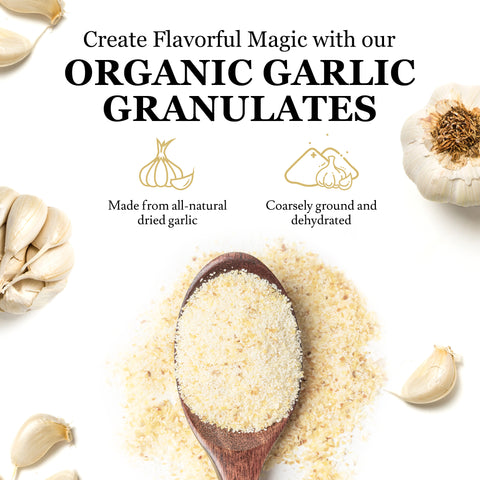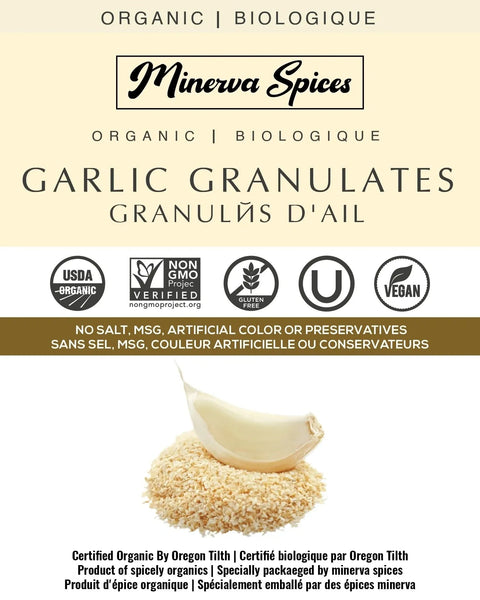 Organic Garlic Granulates 25 Lb Pack
Our all-natural Organic Garlic Granulates are the coarsely ground and dehydrated equivalent to fresh garlic. They pack the pungent aroma and unique taste of the globally loved garlic flavor and yet tend to be less intense than fresh garlic or garlic powder. They are an amazing addition to most savory dishes. Our Garlic Granulates have a sandy texture. If you are looking for a powdery texture, please consider our Garlic Powder.

Independent 3rd Party Certifications: Organic, Gluten Free, Non-GMO, Kosher, Vegan
CERTIFIED ORGANIC AND ALL NATURAL, VEGAN AND GLUTEN-FREE CERTIFIED
OUR SPICES COME IN A PREMIUM RECLOSABLE STAND UP POUCH, MAKING THEM IDEAL FOR STORAGE IN THE KITCHEN
STEAM STERILIZED ,NO CHEMICAL NOR RADITION USED FOR STERILIZATION
SATISFACTION GURANTEED : Customer satisfaction is very important to us, so if you are not happy with our product, we offer a full refund.
Using at Home:
Garlic granulates are a favorite in beef, pork, fish, or poultry rubs, sauces, and salad dressings.
Use 2 teaspoon per pound of meat for seasoning or 1 teaspoon per 4 cups of liquid when adding to soups.
To make a simple garlic butter for toast or pizza crust combine 1 teaspoon garlic granulates to 1/3 cup melted butter. Sprinkle with sea salt to finish. 
A sprinkle on a slice of pizza may just give that little extra you thought it was lacking.
Health

Garlic is said to help lower high blood pressure and high cholesterol.
Garlic is an important source of iron, copper, manganese, and phosphorus.
Benefits
Garlic granulates, slightly larger in size that garlic powder, can be used to replace fresh garlic and is a special addition to most savory dishes.
For those not in favor of having fresh, pungent smelling garlic in their refrigerator, garlic granulates are a welcome alternative.
History

Originating from Asia, garlic is one of the oldest cultivated plants known to man.
Garlic grew in gardens of Babylon where it was known for its powerful health properties used to treat a variety of ailments.
Usage spread to common populations and was essentially the pharmacy of the poor in ancient times.
Creating garlic powder gave way to an almost completely new culinary product, with many new application opportunities.
Ingredients: Organic Garlic Granulates
Checking local availability